Course Description
This is a State of Connecticut approved bridge course that takes an Emergeny Medical Responder (EMR) to Emergency Mecial Technician (EMT). This course meets the objectives contained in the U.S. Department of Transportation National EMS Education Standards and consists of 120 hours of didactic and skills lab training, and 20 hours of supervised clinical experience, which exceeds the requirements for EMT-B in the State of Connecticut. Upon completion students will be prepared to pass the National Registry of Emergency Medical Technicians (NREMT) exam.This info packed course will also include SMART Certification, HazMat Awareness and "EVOC Certification."
Training Center
CTTCI facilities include over 2,500 square feet of dedicated educational space, an outdoor classroom for specialized training such as vehicle extrication, mass causality events, and hazardous material training. In addition, CTTCI operates a Mobile Training Ambulance which is utilized to simulate the out-of-hospital conditions EMS personnel face and to educate students on safe emergency vehicle operations.
CTTCI's training rooms are equipped with state-of-the-art video systems and computer conferencing equipment. There is a fully functional kitchen area that gives you the freedom of bringing your own meals or CTTCI can assist in catering to allow you to focus on the training you came for.
Prerequisite
1. Must have access to computer and internet for online training.
2. Must have held EMR certification for a minimum of 1 year.
Dates & Times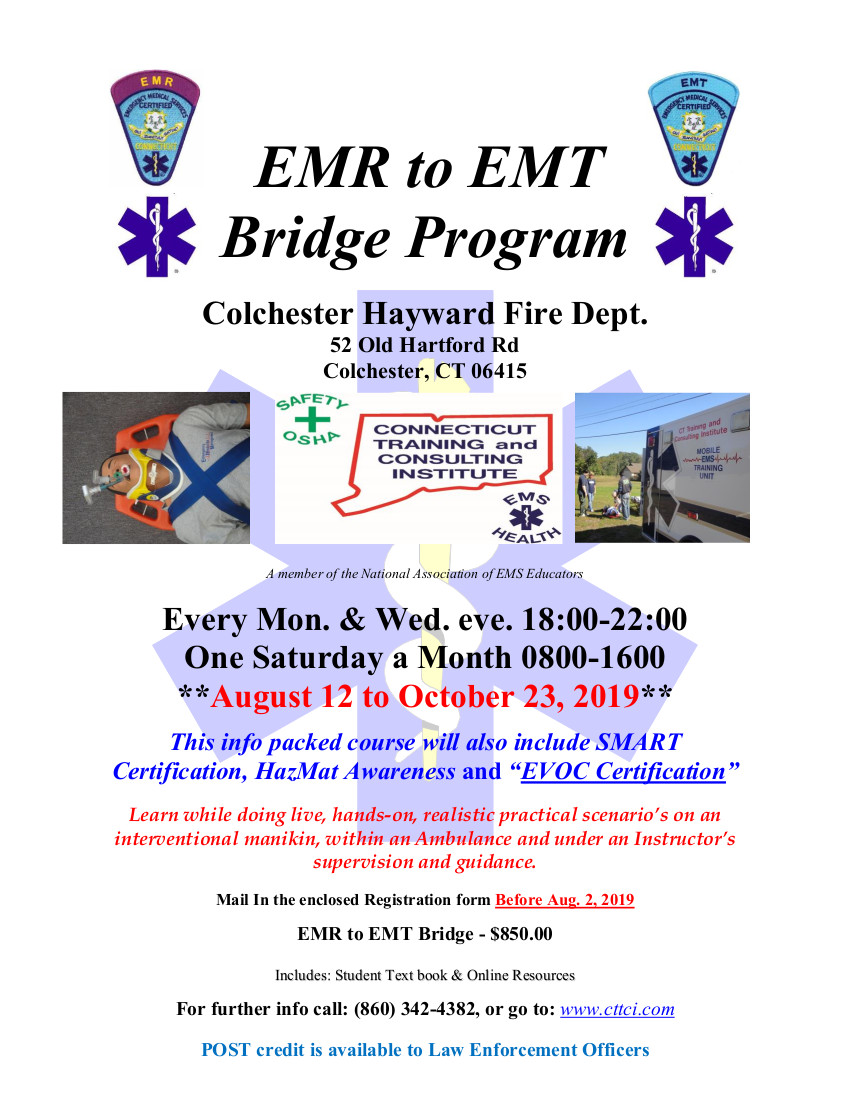 Location
CT Training & Consulting Institute
1116 Portland-Cobalt Rd (Rt. 66)
Portland CT 06480
860.342.4382
Cost
Cost: $850
Payment plans are available.
 Includes: Course Material, Textbook, CPR Course, EVOC Course and subscription to any online curriculum
Instructors
Sean Brieley – EMS Instructor for CTTCI, Sean has over 25 years of experience and leadership in volunteer fire and  ambulance service. Sean is an Emergency Medical Services Instructor and Fire Officer I. Along with day-to-day management duties in the fire department, Sean regularly rides and provides patient care in department ambulances. In addition to his fire and EMS experience, Sean has been teaching for 10 years as an adjunct professor of English at Southern Connecticut State University.
Bob Ziegler – EMS Instructor for CTTCI, Bobr has over 38 years of active EMS as well as Fire Service experience in addition to administrative, supervisory and management experience on Regional, County and Statewide levels.  Mr. Ziegler has been a certified as an EMS Instructor for 29 years and a Licensed Paramedic for 28 years, both within the State of CT.  Mr. Ziegler is also a certified EVOC Instructor, State Certified Fire Service Instructor 1, Safety Officer and Fire Officer 1, is an American Heart Assoc. CPR Instructor Trainer and Regional Faculty as well as an OSHA Certified Instructor and is also POST Credentialed.
Mark Greczkowski – EMS Instructor for CTTCI, his career spans over 30 years of patient care in Emergency Medicine and Fire. Mark has held positions ranging from community volunteer to career Paramedic Firefighter, and commercial ambulance Senior Manager and Preceptor Paramedic.  He is a State of Connecticut Emergency Medical Instructor, as well as the American Heart Association, NAEMT, and maintains a variety of additional state and federally recognized certifications related to both emergency medicine and fire instruction.
Caesar Rondina – EMS Instructor for CTTCI, started as a EMS volunteer in 1979 and has 40 years of EMS experience and has been a State of CT Licensed paramedic for 30 years as well as holding a Specialty Care Transport certification. Caesar served as a volunteer firefighter until becoming career firefighter for the City of West Haven, while working part time as a paramedic for American Medical Response. Upon his retirement from the fire service, Caesar accepted a position as a road supervisor for AMR. Two years later, he advanced to the position of Clinical Education Specialist. Caesar Rondina worked for AMR for 28 years before coming on board with Connecticut Training and Consulting Institute.
Caesar also holds teaching certifications in CPR, ACLS, PALS, EPC, GEMS, PHTLS, TECC, and TCCC and is a CT Affiliated Faculty representative for the NAEMT. Caesar also holds teaching credentials for the United States Coast Guard Auxiliary and Radio Telecommunications.